We produces a wide range of optically clear (ITO PET) Indium Tin Oxide coated transparent, conductive film products. ITO PET products are produced by vacuum sputter deposition of ITO, a process that affords excellent coating uniformity and adhesion. All standard our ITO PET products are produced on optical grade polyester film. By special order ITO coatings are available on other film substrates, for example, heat stabalised film, anti glare film, or clear hard coated polyester film. Also by special order, we offer ITO coatings with a surface resistance that is higher than that of standard ITO PET products.

Application
Structure
- Touch screens components
- Electroluminescent (EL) lamps
- Transparent Heating Elements
- Electrophoretic displays
- Sensors position
- Liquid crystal devices
- Membrane Switches
- EMI shielding
- Smart windows
Transparent Electroconductive Film



| | |
| --- | --- |
| | ITO (Indium - Tin Oxide) |
| | PET Film 125µm (+/-5) |
Item
Unit
NOK 100HA-125A
Test Method
Thickness
µm
125µm (+/-5)
Micrometer
Width
MM
1000mm (+/-2)
Measurement Tape
Length
M
100m, 500m
Measurement Tape
Base Film Quality
Transmittance
%
≤89
ASTM D1003
Haze
%
1.5 (+/-1)
ASTM D1003
Thermal
MD
%
≤1.2
JIS C2318:1997
Shrinkage
TD
%
≤1.2
JIS C2318:1997
Hard Coat Hardness
H
 -
JIS K5400
Specification
Surface Resistance
Ω/sq.
90 (+/-20)
4cmx4cm, 3 point average
Parallel Elctrode
Transmittance
%
≥ 75
ASTM D1003 (550nm)
Haze
%
1.5 (+/-1)
ASTM D1003
ITO Adhesion
%
100 / 100
Cross cut test JIS K5400
Thermal
MD
%
≤1.2
JIS C2318:1997
Shrinkage
TD
%
≤1.2
150°Cx30min.
Environmental Character
High Temperature Test
R/Ro
1.0 (+/-0.25)
150°Cx60min.
High Temperature Storage
R/Ro
1.0 (+/-0.25)
80°Cx250hrs
High Temperature Moisture
R/Ro
1.0 (+/-0.25)
60°Cx95%RH x 250hrs
Chemical Character
Ethanol
R/Ro
1.0 (+/-0.25)
R.T 30 min
Acetone
R/Ro
1.0 (+/-0.25)
R.T 30 min
Toluene
R/Ro
1.0 (+/-0.25)
R.T 30 min
SAppearance
Scratch / Linear Defects
Method
Size
Length
Spec.
Remark
Visual Inspection
W > 0.05mm
L > 2mm
NG
In case scratch / smudge are more
0.02 < W≤0.05mm
L≤2mm
≤20
than 2, distance between the 2
W≤0.02mm
OK
should not be less than 10mm/m2
Particle, Bubble, Smudge

Method

Size

Length

Spec.

Remark

Visual Inspection
0.3mm < Ø
 -
NG
Not exceed m2 (black spot, white
0.2mm <  Ø  ≤0.3mm
 -
≤10
spot, sparkling spot, ITO coating
Ø â‰¤ 0.2mm
 -
OK
peeling off.
Visual Inspection
Dimp, Dent, Hole
| | |
| --- | --- |
| Particle size Ø = (a + b) / 2 | |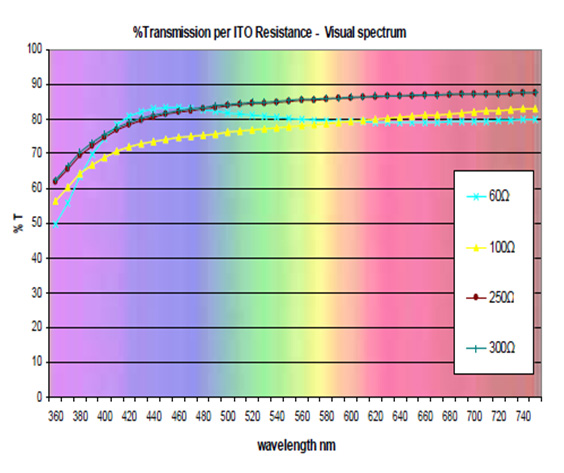 Electrical Uniformity
All products feature electrical uniformity of 10% within any one square foot area, defined as the maximum difference from the average ohms per square value within that area. However, touch screen manufacturers typically achieve < 1% resistance linearity by orienting their sensors (busbars) so that the electrical current path is always in the direction of the length of the film roll.
Handling
Vacuum deposited ITO coatings are very thin and are easily scratched or cracked if handled improperly. When removing film from a roll, care should be taken not to bend or crease it. It is important never to allow the ITO coated side to come in contact with a surface, such as a table, during processing operations. Sliding ITO coating over a surface will scratch the coating, resulting in elevated surface resistance and visible defects. Please note that all ITO PET film product supplied in sheet form is supplied with protective liner on all surfaces.